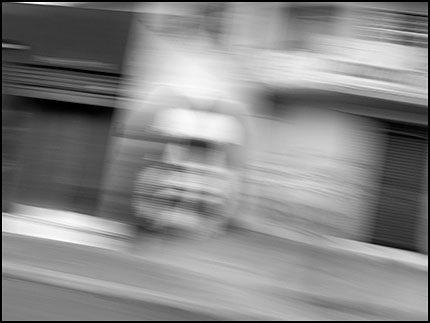 A painful start to the day with the body screaming out that it was not morning, nor a good time to be crawling out of bed. Still, a quiet breakfast and coffee made things alright.
We did a few quick jobs around where we are staying, then back onto the bus to the old part of town. And that is where the trouble started…
It was crowded, we are tourists (and dressing the part), so inevitably my bag was slashed and Edwina's money belt had a razor put across it as well (ballsy, they went through the front of her pants to try for the cash!). They are a talented bunch, you think you're being careful as you squeeze into the bus… and then you notice the damage. Still, no luck for the crims, nothing lost for either of us except some damaged goods and some money with a nice long cut through it.
Another coffee/hot chocolate break to get over our little episode, then off exploring and enjoying more of the old town in Quito. We got up onto the top of a hill for a glorious look out over Quito in the late afternoon sun, then rolled back home to find a tailor to stitch the pants and bag (two days in and we're already repairing things…ahhhh!).
One Response to Dopey tourists lose everything