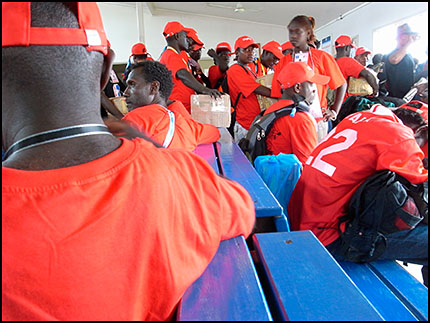 The Bougainville basketball squad headed out to Moresby today. I gave them a lift down to the plane seeing we were all on it together (well, a few were bumped, but the majority got on).
All seemed excited and ready for the games. Jamie Rutana has been coaching the squad for the last few months, training hard over on the concrete court not far from home. I've had a run with them a few times, but a dumpy white guy on a baskeball court surrounded by athletic Bougainvilleans is more a comedy act than anything else. Proved it last night when I was attempting to play down low as a small forward, and was dominated by anyone who posted up against me.
Good luck good luck good luck to the squad!!!!
I'll be out of Bougainville for a long break, back just after new year. A lot of work left hanging, but I'll snap something completely unrelated while away and come back with some heat in the belly, ready to dig into the projects I've got going.