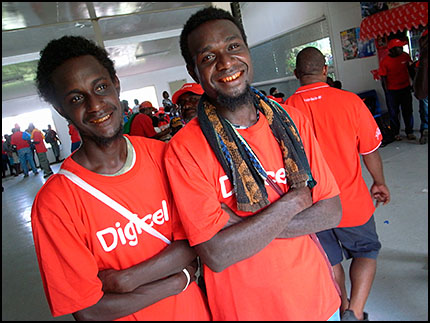 Team Bougainville has been slowly making its way to Port Moresby for the PNG Games. Nearly four hundred athlete heading over from what I can gather.
Down at the Buka airport this afternoon I bumped into two Mungka team mates, Ferdinand and Phillip, as they were getting ready to jump on the plane. They've been training hard with the squad for the last few months, and will no doubt be at their best for the competition. Ferdinand is a fleet footed midfielder, controlling the tempo of the game and confusing the opposition with his ability to beat a player when under pressure. He was awarded the best midfielder trophy for the men's premier division this year (deserved). Phillip is a gifted striker, and knocked in some critical goals for the Mungkas during the season. He's made many fullbacks look a little silly as they try desperately to disturb his march toward goal.
Good luck to all the athletes competing, but especially to Team Bougainville.