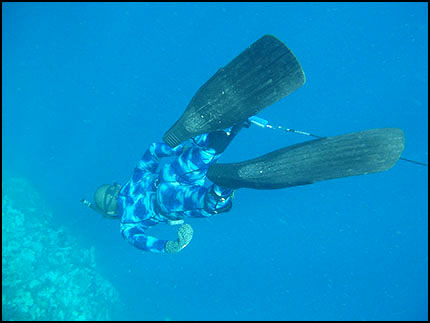 After a few set-backs last week for my projects, a morning drifting about in the warm waters of Bougainville was the medicine needed to undo some teeth grinding frustration.
Rutana and I headed off down the east coast of North Bougainville, diving the reef wall, close to shore, that falls away into deep water. All sorts of gutters, caves and ledges sit in the reef top, and the wall is thick with overhangs, black coral bushes, whips and fish. It was a little quiet along the drop off, with some great reef fish seen ducking for cover and in the distance. Jamie spotted a monster coral trout in deep water, but on the return dive it had moved to safer ground. We were still able to pick up a few decent fish, so some good meals were served on Sunday night.
We stayed in the water till the wind swung and started to make the return trip look less appealing. Then quickly back into the boat and a ride north punching into the short wind chop, with flying fish peeling off the sides.
Melv the Magician (www.auswomble.blogspot.com) generously donated a compact digital camera and matching housing to Jamie for some projects, so I grabbed the camera from Jamie's float to snap a few pictures. Many thanks to Melv for the wonderful gift, the boys are putting it to great use.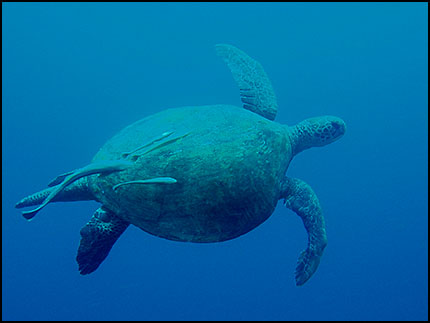 Even though the water was a little dirty (by the unrealistic standards of the South Pacific), they came up pretty well. The old green turtle was lying at the bottom of the wall we were diving, and he slowly cruised off for a breath and a bed somewhere a little more quiet.
Now with a clear head, things are looking up.