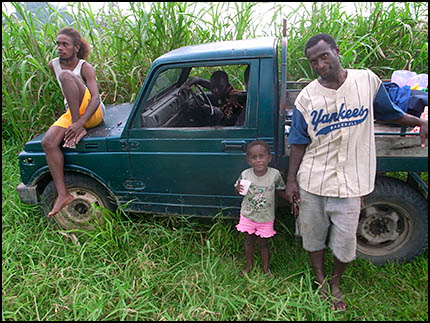 Football is a magical thing.
It has been a point from where I have found a place within the community (whether Brooklyn NSW, Port Moresby or Buka) and made friends and connections that would often be hidden from my daily life.
On Sunday I walked onto a grassy pitch in Arawa (Central Bougainville), barefoot and wearing boardshorts, and played on a team I had met only minutes before. Leslie, a friend from Central Bougainville, was a part of the group, and when they fell short of the 11 players I was roped in from the sidelines; moved from spectator to player.
The field is surrounded by large rain trees and long grass, the grandstand is scrap metal, hauled from an old mining interest, that has been erected into tiered bench seats, and cars are pulled up on the side of the field to watch the undertaking.
My thanks to the players from 'Plasma', the team I was fortunate enough to run with and enjoy the simple pleasure that a game of football brings. One ball, two goals and a rule that you can't use your hands… beautiful.