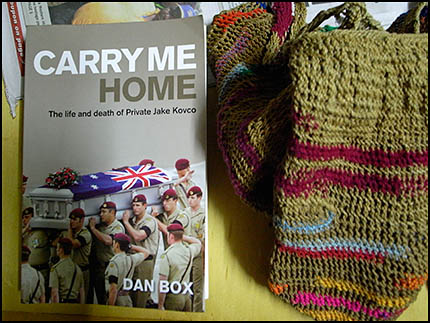 "A cool-eyed and highly readable account of how a tragedy turned into a nightmare for an Australian family, victims of institutionalised dick-headery. Is this really the best we can do for those our government puts in harm's way?"
–          Geoffrey Robertson QC
Yesterday morning I finished reading Carry me home: The life and death of Private Jake Kovco by Dan Box (ISBN 978-1-74175-274-8). I received the book late Friday, opened it straight away and only put it down for some food and sleep. As Robertson observed, it is a cool-eyed account, digging into an emotionally charged issue and clearly presenting many troubling events that shaped the incredible mess that was spawned by the death of Private Jake Kovco. The lack of clarity in the Australian Defense Forces' procedures for the immediate investigation and subsequent repatriation leave you shaking your head as it spirals out to the point of the soldier's remains being effectively lost. The investigations and inquiries that follow do little to inspire confidence that any determination could have been reached (lost reports, witness statements tampered with, evidence destroyed…).
The author, Dan Box, covered the military inquiry and coronial inquest for The Australian newspaper. Box had moved to live in central Australia by the time the book went to press, and was subsequently awarded a Royal Geographic Society grant to travel to the Carteret Islands of Bougainville. A short entry on Kisim Piksa in May 2009 referred to Dan's work here in Bougainvile.
Since then his piece has been aired on the BBC, and can be listened to online. The website journal covering his work in the Carterets is a good read and raises a number of issues surrounding the plight of the islanders, and provides links to the aired program.