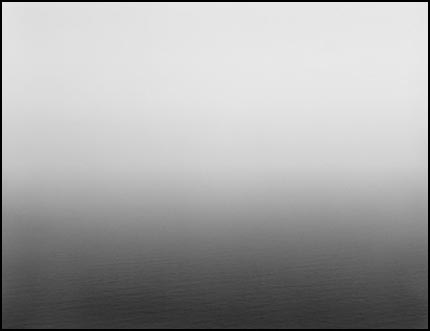 Hiroshi Sugimoto is widely celebrated as a significant contemporary photgrapher. His varied bodies of work are incredible. There have been many imitators, but Sugimoto seems to continue forward with more following.
The magnificent book Hiroshi Sugimoto (ISBN 3-7757-1640-8) sits on my shelf here in Buka. It is a wonderful volume as it provides a succesful overview of his work. Enough space is given to each series, the essays are accessable to the broader public and the reproductions are excellent. The book is big, it weighs a ton and has lots of pictures in it.
The different bodies of work that Sugimoto has created are varied and fasinating. I am particularly pleased by the diorama pictures and the seascapes, two very well known bodies of work.
The dioramas began in 1975, and the short introduction by the photographer to the series is wonderful.
"When I first arrived in New York in 1974, I visited many of the city's tourist sites, one of which was the American Museum of Natural History. I mae a curious discovery while looking at the exhibition of animal dioramas: the stuffed animal positioned before painted backdrops looked utterly fake, yet by taking a quick peek with one eye closed, all perspective vanished, and suddenly they looked very real. I had found a way to see the world as a camera does. However fake the subject, once photographed, it's as good as real"
The seascapes are vast silver views, with the horizon dividing the frame when it is visible. His camera has pointed out from a number of coasts, finding startlingly bright reflections, dark water, dense fog and gentle greys. The pictures lack a sense of scale and a degree of context (apart from the title identifying the site). They are magic things, stripped back to a few distinct tones with each presenting a new and unique outcome of a familiar 'composition'. There is an installation view of a 1991 show at the Carnegie Museum of Art, Pittsburgh that presents the pictures in an incredible setting, such a wonderful removal of photographs from the expected gallery setting.
While I cannot expect to see a Sugimoto show in the near future, I look forward to one day standing in front of the original prints as the scale and manner in which his work is hung look like they combine to deliver something incredible.