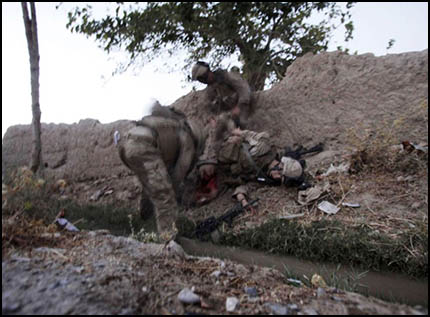 As per usual I got a heads up from a friend in Australia to look at something. With the poor connection here  I don't bother surfing much due to the hours spent trying to maintain a connection to the server. This has probably been seen by most, but I include it here as the debate that surrounds it has been fascinating (if not familiar).
This photograph, made by Julie Jacobson (Associated Press)on 14 August 2009, has raised hackles in the USA. Criticism of the decision to publish the picture across various media is easily found. The photograph shows Lance Cpl. Joshua M. Bernard lying wounded in Helmand Province, Afghanistan.
He was on point when his patrol came under fire. The ambush included RPG rounds, one of which mortally wounded Lance Corporal Bernard. The shrapnel amputated one of his legs on impact, and badly injured the other. The two marines shown attending him applied tourniquets and administered first aid in an attempt to save his life.
The photograph was shown to both Lance Cpl. Bernard's unit and his family. His family requested that the image not be published.
The picture was released after the funeral of Bernard.
The debate seems to centre around the family's request that it not be published. Obviously the back and forth is at times heated and sometimes introduces much more emotion than any engagement of the core debate. The fact that the US Secretary of Defense jumped in early raises the stakes some.
I encourage all readers of kisim piksa to do a little looking on this one, to dig into the idea of publication, the role of the photographer and the idea of censorship on request. There is a lot to this, and I will not fool myself into thinking that I could flesh it out here.
3 Responses to The death of Lance Cpl. Joshua M. Bernard