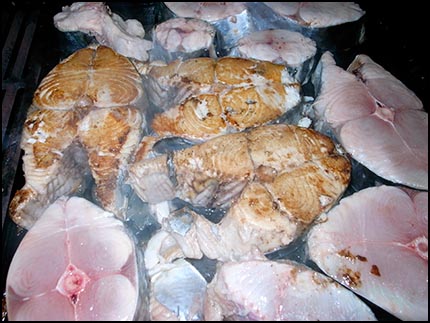 Up early yesterday, before the sun got above the horizon. Some friends and I were heading out to try and find a feed of fish, so we launched the runabout and scooted down the Buka Passage out onto the east coast of the big island.
The New Zealand crew from the Bougainville Community Policing Program were running their great boat, so Murray was skippering, with Tracey and Rom fishing the reef and enjoying a day out in the Pacific. Malu, a strong local diver, had his gear with him in the boat ready to find some fish.
We got down the coast, picked up Jamie Rutana and duked into a small bay that was riddled with swim throughs, caves and ledges. It was a highlight to sneak about through the rocky passages, slowly worming your way into little corridors and cracks, picking up some of the mangrove jacks that hang out in there.
We then moved out onto the nearby headland and dove the reef edge in a reasonable current. I was lucky to come across a decent spanish mackerel, and managed to place a good shot. Soon the fish was on the surface and then into the boat.
It got a little quiet, so we relocated a little further north toward the passage, diving another headland that had wonderful underwater caves and ledges, with a fantastic wall from 5m down to a bit over 20m, where the bottom continued to slope away. We found schooling big eye trevally out in the open water, coral trout and maori sea perch down the wall, and had a ball of a time diving in the calm, clear water till our legs and lungs gave out.
A lazy ride home and a drift through the entrance to the passage finished a wonderful day, then back up the hill to clean the catch, divide up the fish and enjoy a BBQ of magnificent fresh spanish mackerel steaks, kau kau, pumpkin, rice and beans.