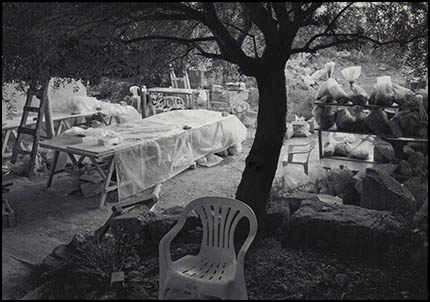 Here is a picture from 2004. I was photographing in Cyprus on an archeological dig run by members of Sydney University in association with the Cypriot Department of Antiquities. The site is a Hellenistic theatre down on the south west coast in the city of Paphos. After each day's work was done, I'd steal the last few minutes of light and run out with my view camera to make my own pictures.
Professor Richard Green was in charge of the project, and would hold court under this little olive tree during the day. All the trench supervisors and specialists would plonk themselves down next to him, discuss the issue at hand and then get back on their way. The photographic work I was doing for the crew was always interesting, wonderful delicate objects coming out of the ground, and amazing architectural structures being unearthed. Working alongside geologists, archeologists, mapping specialists, volunteers and students was fantastic, with all sorts of different life experiences and stories.
The project continues, go to the website for information. The project welcomes people interested in archeology (but without experience or training) via their succesful volunteer program.
One Response to A picture from my files