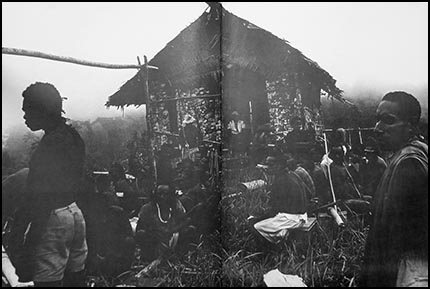 This book is a winner. I found it earlier this year in a store near where I grew up in Australia.
"Cannibal – a photographic audacity" is your classic 'photojournalist in the wild South Pacific', a boys own adventure full of guns, parol officers and 'natives'. It was published in 1970 by A.H. & A.W. Reed (SBN 589 07082 7).
James L. Anderson travelled north from Australia to Port Moresby, and then went out to the area just east of the Strickland River in the Bimai area. He met up with some patrol officers and crew, and went off through the bush, checking on villages and looking to quash tribal fighting. Canabalism raises it head (of course!) as a topic, and continues to be referred to during the book.
I admit that I love some of the photographs. In fact, I make no apologies, some of them are brilliant. The reproductions in the book may be a bit coarse, but it does not hurt the pictures too much. I've probably done more harm with my quick snaps for kisim piksa while standing over the book late at night. I love this photograph of the patrol walking along the trail through the thick jungle.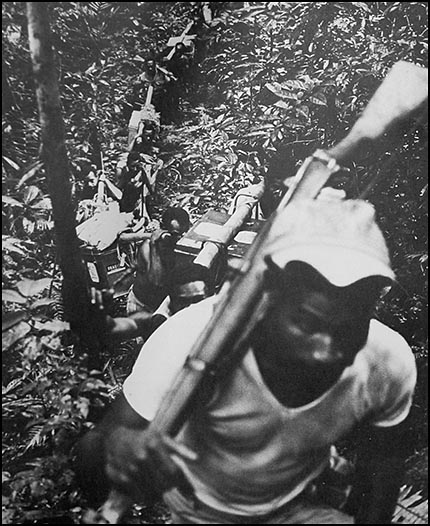 Then there are some wonderful pano pictures made on a widelux. The one below made in under the canopy is magic. I adore the gesture of patrol officer Alan Johnston in the left of the frame.

The cover is a color photograph, so I can only assume that Anderson was working in both colour and b&w. No other colour appears in the book.
The killer is the author's picture, reproduced here with respect (but oh how I want to be like Anderson on some level…. maybe a revolver and smoke are in my future ).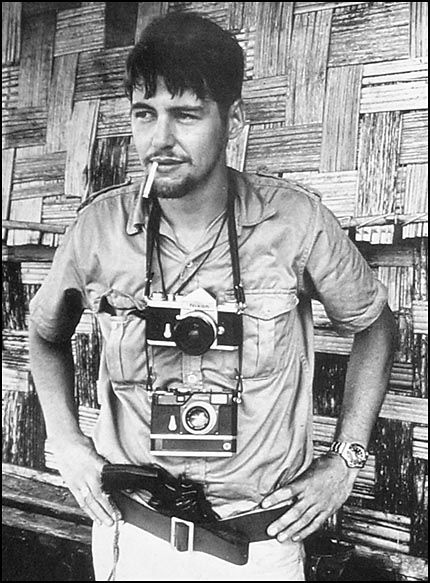 The back of the book notes that Anderson had at least one other book published prior to 'Cannibal'. The title of it is 'New Guinea', and the promo mentions that it contains 80 colour and 113 b&w and "will both challenge and inform".
The best bit about the internet is… well…. tracking down someone is often just a few anonymous clicks away. So off I went into cyberspace, and found Mr Anderson himself. Nearly 40 years after 'Cannibal' went to print, he is still photographing and living in Sydney. A few brief email exchanges occurred, and hopefully one day we'll have a coffee to say hello so I can hear some stories.