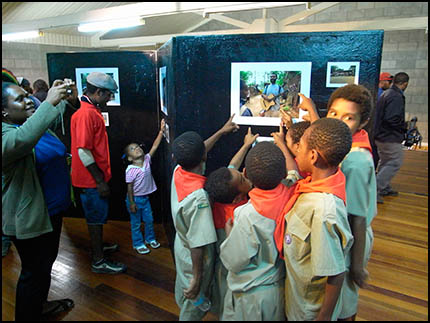 Tonight the gala night of Wok Bung Wantaim was a raging success. Congratulations to all involved!
A stage play, photographs, paintings, original music and creative writing….. the event showcased some wonderful Papua New  Guinean talent. People attending got right into the work, and it was great that all ages were represented in a very friendly evening where people could laugh, chat and story (rather than some of the more sterile 'arts' events that we've all attended).
Emmanuel Onom's pictures, the core reason why I was there, looked fantastic. Solid C-prints up on the wall, wonderfully seen and  finished. A great moment for me was realising that at least another two photographers had pictures on the wall along with Emmanuel. Around the room paintings were displayed by a number of community members, providing a wonderful counterpoint to the photographs. Wanpis and Emmanuel had the majority of the photos, and the show had a fantastic pace with the larger prints off set by some  little jewel-like prints. There are some stunning pictures in the set, and as this was a small selection a larger group will be brilliant. The best way at present to see examples of the work is to get straight over to the 8 Mile website.
Sean Davey, the Aussie photog who has popped up here on kisim piksa a number of times, was there front and centre, involved in the hanging of the work and the discussion surrounding the pictures. He has put a lot of work into this project with the 8 Mile community, and it is obvious that he has many friends there that will be with him for life.
Get over to the 8 Mile website. It has some great things to look through and explore.
One Response to WOK BUNG WANTAIM gala night