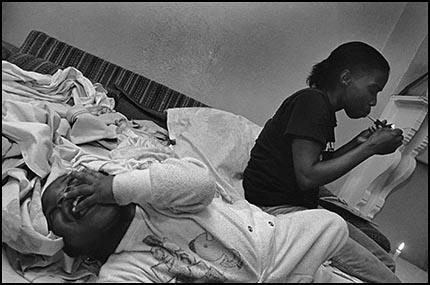 This guy is a heavy hitter.
By the time you put down 'Cocaine True, Cocaine Blue' the brain is usually spinning.
I have to put up front that Richards received quite a bit of criticism for his pictures… in fact a number of his projects have ben attacked. His work for 'Exploding Into Life', the collaboration he worked on with his wife Dorothea Lynch (his photographs, her writing) as she died from breast cancer, was deemed innapropriate (?!) by some .
I count myself lucky to look at his pictures. Richards is certainly an activist from way back. He worked in the southern states of the USA on civil rights issues, advocating through newspapers and other publications. He has since worked for numerous media, Government and Non-Government Organisations, working on long term projects and producing a number of incredible books and films.
The book 'Cocaine True, Cocaine Blue' explores the devastating field of play of the crack cocaine scene in North East USA through the 1980's and early 1990's. It is shocking, and with the large slabs of text that draw on conversations with health workers, community members, drug dealers, addicts and police officers, the issue becomes clouded in complexity and at times the futility of the participant's efforts is frightening. It is a dense book, with tons of pictures. Richards is not precious with the layout, he does not shy away from the gutter or from packing multiple images onto a page. I think the content of the pictures is so strong that the book demands the sheer overload.
The other book of his that is sitting on my my shelf at present is 'The Knife and Gun Club'. This book looks at the emergency room of Denver General Hospital and at times he sits alongside the first responders to the calls for help.  Again, the large amount of pictures, the access and the contributions by doctors, emergency ward nurses and the ambulance service combine to make a book that is again a complex and insightful piece of work. This is not cardboard cut-out stuff.
Richards was a member of Magnum and VII.