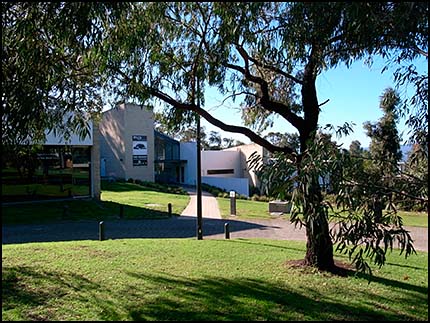 I headed out of Melbourne yesterday, rolling north to Sydney. The Camp Slayer show is up on the wall for another few weeks. It will be interesting to hear what happens during the rest of the hanging time. It is up until early August, and the big German show hanging out the front is not to be missed.
I need to take this time to thank the fabulous crew at the Monash Gallery of Art (www.mga.org.au) who have done some wonderful work and continue to support the show. It has been a pleasure to finally meet the people that have been on the end of a phone line for so long.
Mr Shaune Lakin, the Director. He chaired the roundtable discussion with Stephen Dupont, went on radio with me and has been generous with his time and advice. He's in charge of a brilliant gallery with many exciting things ahead. I'm looking forward to following the MGA's future programs.
Mr Stephen Zagala, the Curator. Zagala was the guy who guided this show through to the wall. His enthusiasm and support has been fantastic. Thank you Stephen, thank you.
Mr Omar Qaradaghi, the talented guy with the rototrim. He did such a magic job getting my photographs on the wall. The framing and presentation that he created are first rate.
Ms Stephanie Richter, the Education and Public Programs Coordinator. Stephanie has put up with me worrying about presentations, sending through random emails and even stealing pictures from her. In amongst it all she has organised the wonderful events around the Camp Slayer show.
Ms Amanda Thornton, the Program and Operations Manager. Ms Thornton has looked after all the official agreements and has made sure things rolled along on schedule. Thank goodness, because everyone knows what I'm like.
Mr Mark Hislop, the Communications Coordinator. Mr Hislop put together the fantastic invitation and the media releases that have accompanied the show and associated events. Graphic design and the skills that go with it are a mystery to me, and i'm always thankful when there is someone there able to make things look sweet.
Ms Stella Loftus-Hills was always a friendly face when I'd wander into the MGA. It's amazing how something like a warm welcome can make a place so inviting (and no longer scary), and help people get in amongst the work and enjoy their visit.
All the hard workers in the cafe for the great coffee and the volunteers who give  their time and enthusisam to the MGA get a massive wrap. Big respect.