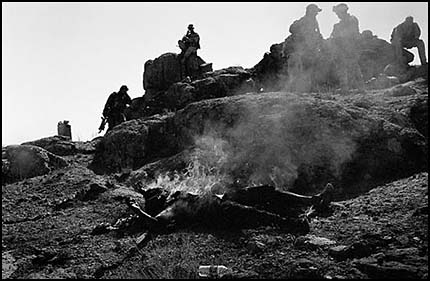 The MGA have been amazing in their support and enthusiasm for showing and discussing pictures.
On Saturday the crew put together another public event while my show is up, and invited me to be a part of a round table discussion. The killer though is the panel that I had the pleasure to share the forum with.
Mr Shaune Lakin, the director of the MGA, chaired the discussion of 'Photography in Contemporary Conflict'. Shaune's experience at the Australian War Memorial, being in charge of the photographic archive, gives him a strong grounding and his large published work 'Contact' is a fantastic point of reference for a variety of work from places of conflict that Australians have been involved in. The guest of the show was Stephen Dupont. Dupont is a winner of both the Robert Capa Medal and the W.Eugene Smith Award. His work in Afghanistan (as just one example of his photography) has been a long term commitment, with the more recent trips for 'Narcostan' becoming quite frightening with a close call to an explosive device. I'm on the panel presenting another type of experience and method of exploring it photographically, so the panel was not a repetitive animal.
We kicked off at 2pm with a good turnout of people attending to participate. Shaune got the ball rolling, introducing the players, getting everyone comfortable and giving some direction to the discussion. He kept things focused, asked great questions and offered insight gained from his work. Dupont was amazing in his composure and ability to discuss his work. This is a reflection of his commitment and sustained practice. I spoke about my reasons for being in Iraq, briefly describing the team that I was involved with and the work we did. The thing went well. Questions spun around and I think the participating public enjoyed themselves.
It was a little daunting, but so exciting and eye opening to be a participant.
Both the MGA and I recorded the event. I understand that the magazine 'Photofile' will be publishing a transcript of the discussion in an upcming issue (obviously no promises, just a rumour I heard). For those on a fast connection and who enjoy listening in, I have made an 80MB MP3 file available for download here.
I have not done anything to the file other than pump the gain a little, so it is rough with all the coughs and noise left in. The discussion runs for a little over one hour and twenty minutes.
Once we finished everyone went their seperate ways. I ended up sitting in Joyce Evans' house in Toorak, staring at the collection of works on display, marvelling at things like an Elliot Erwitt on one wall, a Steiglitz down the hall, stunning paintings friom people she knows and admires, and a great selection of her own work. Neil McLeod was over for dinner, and I got to look through one of his books and hear stories from the many years he has spent working in Australia and abroad.
Of course, being bowled over by the day, I left the camera stuffed away in my bag and just soaked it in.
Get over to Dupont's site, as well as the agencies 'Contact Press' and 'Degree South'. You could spend days digging around looking at pictures. Days well spent.