Last night Mr Shaune Lakin and I were plugged in and chatting with Mr Mark Williams on the PBS 106.7FM arts show 'The Opening'.
We had a great little talk. Mr Lakin was excellent, describing the German show 'presentation/representation: photography from Germany', and helping me out with the discussion of the Camp Slayer pictures. He was very kind with his words about my work, and I got the chance to describe how I got to the point of making them.
Mark Williams was great, going easy on me during my first radio gig. Adrian was the guru on the desk, twiddling knobs and running everything, and Lucy was our wrangler out the front, getting us where we needed to be and giving a great little description of PBS and where they had come from.
The station streams live from their site, as well as having past shows available for listening. The site is well worth exploring. Fantastic content and stuff that many people would not come across through the regular grind.
The crew at PBS 106.7FM were kind enough to give me a file of the interview, so it is here on Kisim Piksa for download. Thanks to Jim in PBSFM production for the extra effort. It is an MP3, so you should be able listen to it on just about any device. The file is just under 5MB, and can be downloaded here.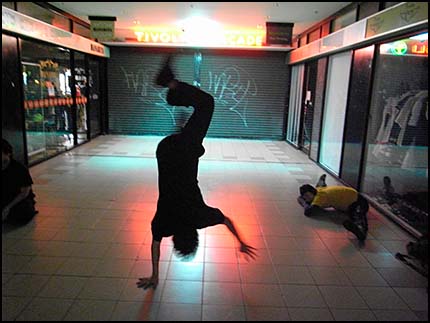 After leaving the studio I pulled my beanie down over my ears and walked into the city (only from Collingwood). I had my doubts in the decision due to the brisk (freezing) Melbourne evening, but it paid off when I bumped into some young guys breakdancing in a space just off the street. I wish I was flexible enough, strong enough and fit enough to be able to do this stuff, let alone be bold enough to try it. I've been fascinated with it since I was a little kid, but never did the hard work to get any good.