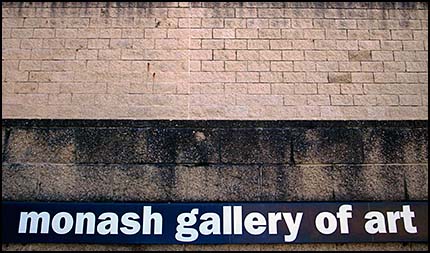 The MGA has a number of events and media spots that are running this week with Camp Slayer. I've listed a few below, and will endevour to get copies to be posted in this journal. Any more that pop up will be listed.
Tuesday 07 July 2009 7pm: A discussion on the radio arts segment 'THE OPENING' on PBSFM (106.7FM). Mr Shaune Lakin (MGA Director) and I will be discussing the work hanging in the MGA at present.
Thursday 09 July 2009 3pm: Artist Talk at the MGA. I will be chatting about the Camp Slayer pictures, the background to the work and the making of it. See the MGA website for details.
Saturday 11 July 2009 2pm: Roundtable discussion with Mr Shaune Lakin (director of the MGA) and Mr Stephen Dupont (Contact Press, Degree South) and little old me on 'Photography in Contemporary Conflict'. This one is going to be really interesting. With Mr Lakin's background as the Head of Photos at the Australian War Memorial, and Mr Dupont's extensive experience working in areas of conflict, I think the discussion will be robust and exciting. Dupont is a winner of both the Robert Capa Medal and the W. Eugene Smith Award, so we've got a heavy hitter turning up.
The press release can be downloaded here.
Hopefully the attending public will participate enthusiastically with questions, comments and thoughts. A wonderful opportunity.