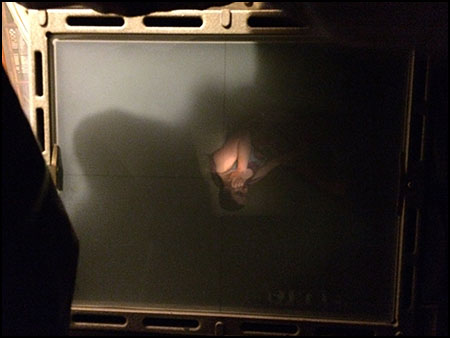 I don't think I've ever discussed 'equipment' in any depth here on KPiksa… certainly can't remember spruiking something or getting wrapped up in what I'm carrying, what I like, how it works, what I use… blah blah blah… usually something I avoid simply because there are so many wonderful things to dig around on in photographs and photography before the mechanics of it all becomes particularly interesting…
But today I break that form and point to a product… as much for its excellent qualities as the fantastic service by the maker of it.
Story goes that I returned from a recent trip earlier this month and found the groundglass on my 10.8 view camera cracked. "No worries"… these things happen between the hundreds of kilometres in cars on rough roads, multiple flights on small aircraft (with minimalist bags to hide "I'm carrying a little too much weight in this shoulder bag' kinda stuff when boarding)… and dragging the thing up and down hills, through the scrub and round about building sites… just the right knock, at just the right angle… and 'pop'… no matter if you're using one of those protectors or not…
But definitely "no worries"… I've got that old screen that I keep tucked away in case this happens… I'll just fit it and I'm sweet… ohhhhh….. shit….. seems sometime in the past (who knows when) the particular box that it's carefully stored in with padding/foam etc has taken just the right knock and it's in pieces as well…
…now panic… I got's a trip rrrrrrrreeeeaaaaallll soon and I need the camera running smooth because I'm gonna be on it from sun-up to sun-down for a few weeks (plus the time photographing at night when I'm not crying from the sore muscles and bleeding feet…) … I can always 'make' one or two outta acrylic pretty easily (done it before) but I don't much like em coz they're usually a touch crappy (like much of the things I make… ha!)…
…
So in goes the message to Steve Hopf less than two weeks ago for help…
And oh smokes did he deliver!!!… I received the pair of custom ground glass (with the layout I wanted, the dead on right size, the right type of glass) not long after making the order… PERFECT.
They are a substantial improvement on many of the old screens that we all motor along with… these things are crisp, clean, even, bright and 'snappy' with the grinding just right to allow the view through the loupe to pop in and out without too much hunting… just wonderful to work on… lessening another 'process' and reducing a barrier between wrestling the machine and finding the exciting view appear on the back of the camera just prior to slipping the dd in to expose a neg.
So hats off to Steve Hopf and Hopf Glass… the product is TOP NOTCH… the service is TOP NOTCH… just a huge thumbs up… a huge THANKS… and certainly a recommendation for anyone wanting a new groundglass to give him a shout… he makes 'em for just about any size needed…
Find him here: www.hopfglass.com