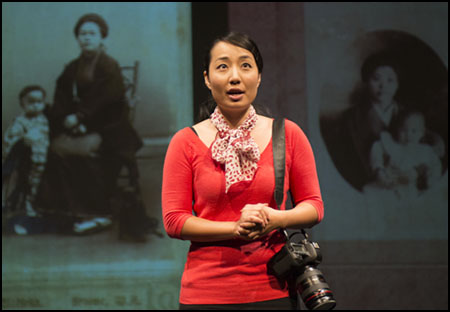 Mayu's huge effort has landed and has a big run of dates all over the country… big R.E.S.P.E.C.T sent out for following this… for chasing it and for digging… I remember when the early stages of the effort were coming together… and now it has come to flower.
Put it in your diary. Don't miss the chance. Get along for an evening!
From the Performance4a site: Japanese born Yasukichi Murakami arrived in Australia in 1897 and became a photographer, entrepreneur and inventor in Broome then Darwin.  In 1941 he and his family were arrested as enemy aliens.  Their belongings were impounded, and his photographs were lost.  Murakami died in internment. 
Contemporary photographer and performance maker Mayu Kanamori tells the story of her search for Murakami's photographs in a new work combining photographic projections, video, narration, music and performance.  If photographs are moments frozen in time, then Murakami, the performance, unlocks those moments with the warmth of memory, family, humour and truth.
Find Mayu at her website: www.mayu.com.au