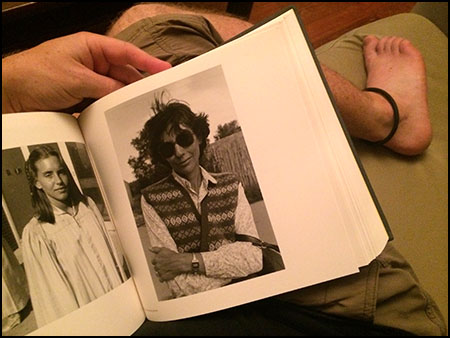 A book arrived in the post recently and I've been sitting with it since… the thing has rocked my world…
Of course there's no surprise… I'm pretty obvious and conservative in my preferences (many would say overly so)… but Friedlander does rock my world and I'm not ashamed of my little fanboy existence around the whacky Mr Friedlander.
His book Family in the Picture is a brick. Thick thick and jam packed with snaps… fifty odd years of pictures around home, his wife and kids, friends and extended family, holidays, weddings, parties, quiet mornings, meals and the detritus of a life lived.
It's a book that truly points to his more 'contained groups' of pictures… periods and approach and arrangement and stance… it's all there… and somehow this guy just keeps at it…
All the pictures in the book are identified by people, location and date… and that points me back to a story read in one of my books wrapped up in cardboard, stored somewhere back in Australia in a dim locker… the story goes that Mr Friedlander was up on stage at some conference projecting slides of some work… all was silent apart from him occasionally mentioning into the microphone the broad location of where the picture was made (ie "St Louis")… well many people in the audience were growing uncomfortable… they wanted anecdotes, tales, witty asides and insight into the great artistic mind(!)… so at some point, out of desperation, someone piped up and asked "does it really matter where it was taken?"… to which Friedlander replied "YES" and then proceeded to identify the site of every picture left in the presentation… gold!
So as I strolled through this fat little tome I paused at a single picture that he'd made of Maria with her arms gently crossed and her dark glasses pulled over her eyes… as underneath it is written 'Maria, location and date unknown'… an anomaly amongst the who/what/where/when, a wonderfully needed inclusion that despite the important, missing context usually provided by his sense of experience, presence and influence… finds itself jammed in amongst the rest of the joy, the laughter, the moments of exhaustion, of travel, of birth, new and sustained relationships, of tragedy and the relentless present… and the book is better for it.
Just love it… easy to find, not expensive at all, hundreds and hundreds of pictures… a magic little slab that has been sitting in my lap since it slid in through the mail slot in the front door… sweeeeeet.