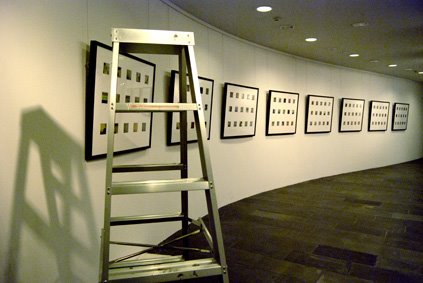 Well, I am a thief.
Stephanie Richter of the Monash Gallery of Art (Education and Public Programs Coordinator) was kind enough to let me know that the gallery had posted an installation picture of Camp Slayer up on the MGA blog.
So of course I had to rush over and have a look, as well as steal the picture from their blog for Kisim Piksa.
The photo above shows 8 of the 11 framed panels in the show. The MGA have remounted the whole body of work and presented it in this fashion. Looks interesting, certainly a different take on the work. Love it when a curator grabs something, puts their own stamp on it and gets things happening. Makes the show less sterile and predictable for me.
I will be really interested to see how the images have been sequenced and the contents of each panel. No doubt I'll find things I was not aware of, relationships I wasn't clued up enough to find.
Opens tomorrow…….
2 Responses to MGA – Camp Slayer 'sneak peek'