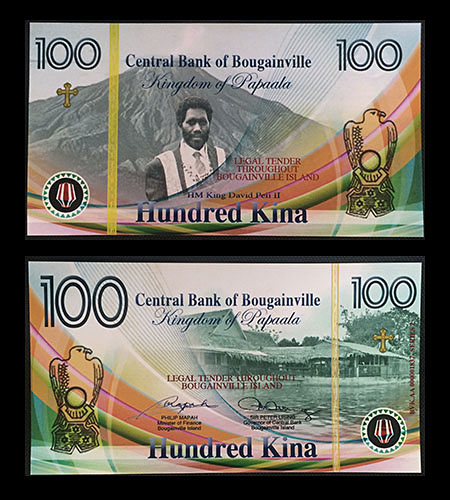 The pictures here are of the famed Bougainville Kina (Series 2) made available by the 'Central Bank of Bougainville'… the long running pyramid scheme of His Majesty King David Pei II (Noah Musingku) that has had a few names, nicknames and evolutions during its tortured history… most people would be aware of the name U-Vistract…
Both sides of each note are shown. Apologies that the photos are a bit rough – I knocked em out quickly on my phone.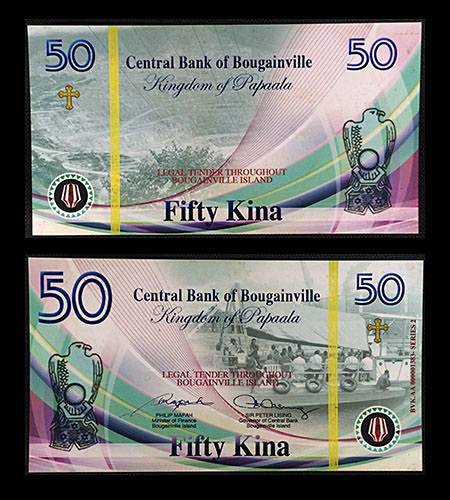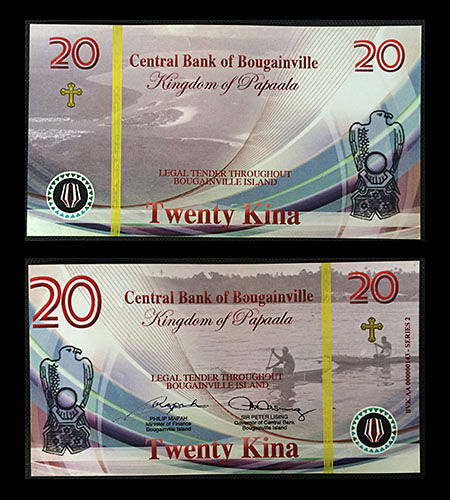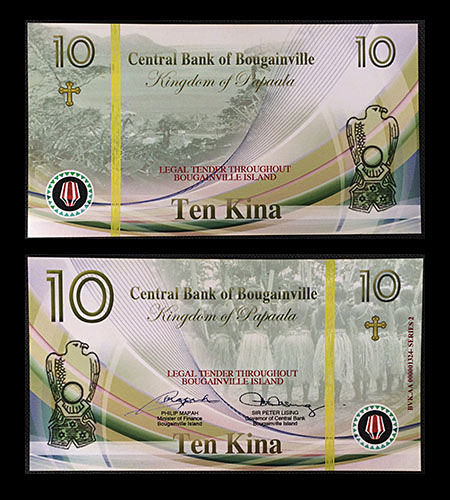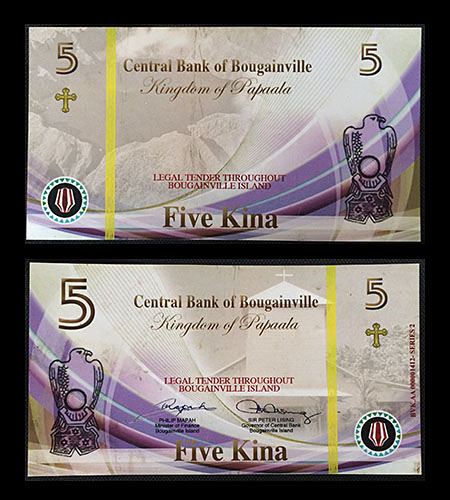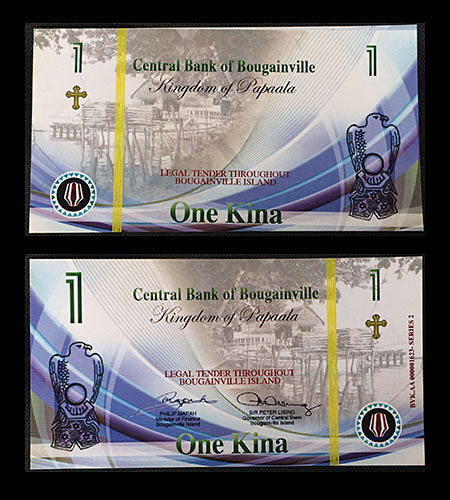 The pictures were made in Southern Bougainville in late July 2014, only a few months after US Citizen Barry Keith Webb was detained at Jackson's Airport in POM attempting to carry a huge slab of the fake currency into Bougainville. I have no idea what version of the notes he was carrying.
The notes shown above are/were the property of a local investor in the scheme. At the time I saw them the 'currency' was claimed to be three times stronger than the Papua New Guinea Kina. Unfortunately its use in the local trade stores is… shall we say… 'limited'…
They are a plastic of some description, not particularly well printed and poorly trimmed.
An earlier print run note (BVK100) that I was shown was paper and rough, but otherwise the same as the later plastic versions (Series 2). I did not see any notes with the face of Jesus, Kabui or Ona on them – reports years ago indicated a series of notes were designed with these faces on them. You can find reproductions of these notes in other places on the www.
The Series 2 notes are reproduced here on KisimP as a simple record for others to compare (or contrast) to various stories heard or objects seen. Kinda like a small part of a larger puzzle.
*it is depressing that I actually have to stress that this post is not an endorsement… but given the track record of super-sketchy-whities in Bougainville and wider PNG… and the danger of the internet spiralling out silly stories that get picked up on the ground… this post is not an endorsement of any of the undertakings of Musingku or his associates.
3 Responses to The Bougainville Kina (BVK)