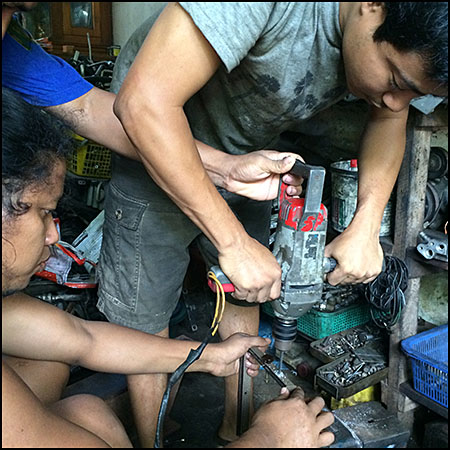 I'm a bit of a dinosaur… I'll admit it… a few old cameras and a pretty simple working method for the things I hold most dear… pretty much out in Ludditeland it would seem.
But I made an important technomanogical upgrade today… hey big spender indeed… after a few drawings on napkins and further thinking and revision and a few more sketches I took apart my favourite camera and ventured forth in search of a drill press. The mod would make some of my working methods more streamlined and 'easy' when bumping around by myself.
So I ended up down an alley gesturing and showing drawings and digging into my bag to produce nuts and bolts and permanent markers… and I believe the reply was "we don't need no stinking drill press"… probably the equivalent of "no-fuckin'-worries-mate"…
So I grinned, closed my eyes and turned away as the drill shrieked to life and I crossed my fingers that I hadn't made an awful mistake.
Seems like Upgrade 3.0 has worked and it's better than I'd hoped for: simple, strong and without complication. Yay for the dude with the drill and the vice! Standing up and applauding your style and skills. I know if I'd tried it there'd probably be blood sprayed around the floor and walls and a destroyed camera to boot.
Big respect.