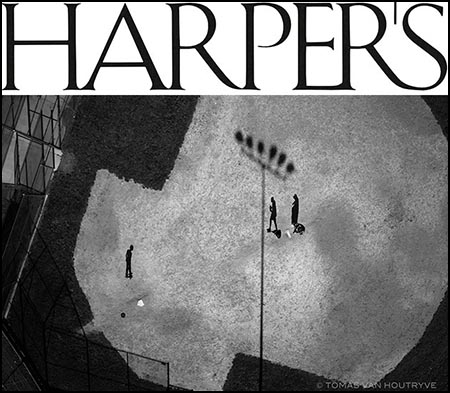 Harper's are running their largest 'photo essay' since their inception 160+ years ago.
Tomas van Houtryve of VII flew his little drone up into the sky and snapped and snapped and snapped…
Tomas van Houtryve bought his drone, a small quadcopter, on Amazon.com, modifying it to accommodate a still camera and a system for transmitting video back to the ground, a greatly simplified version of the satellite uplink that connects Predator and Reaper UAVs overseas to their pilots in the American Southwest. Van Houtryve flew his drone over the very sorts of gatherings that have become habitual targets for foreign air strikes — weddings, funerals, groups of people praying or exercising. He also used it to photograph settings in which UAVs are used to less lethal effect, such as prisons, oil fields, industrial feedlots, and stretches of the U.S.-Mexico border. As unmanned aircraft become ever more pervasive, van Houtryve's images engage with the changing nature of war, of privacy, and of government transparency.
Nine months after Congress delivered its mandate to the FAA, a strike in northeast Pakistan — one of more than 300 ordered in the country since Obama took office — killed a sixty-seven-year-old woman picking okra outside her house. At a briefing held last year on Capitol Hill, the woman's thirteen-year-old grandson, Zubair Rehman, spoke to a group of five lawmakers. "I no longer love blue skies," said Rehman, who was injured by shrapnel in the attack. "In fact, I now prefer gray skies. The drones do not fly when the skies are gray."
Check it check it check it: