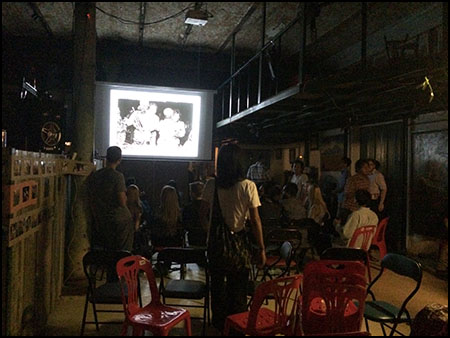 Last night there was a wonderful gathering at the beautiful Pansodan Scene (Yangon) for a projections night.
A bunch of students from Norway and Bangladesh joined with some Myanmar photographers for a workshop under the watch of Philip Blenkinsop, Gareth Bright, Munem Wasif and Per Anders Rosenkvist. They had been sweating for the last week snapping and editing and being grilled and yelled at and encouraged and had now put pictures together to be splashed up on the big screen for the eager audience.
I arrived just in time (for the kids meant being out the door before 6pm was never going to happen) and sat down to quietly watch the pictures appear. Some lovely stuff in amongst it all and the crowd was enthusiastic in their response.
A short break and the tutors showed some work. Munem Wasif's aesthetically romantic pictures were quite stunning up big and as always Blenkinsop's snaps put a lot of people on their butts. The writing and blood spattering has at times raised criticism and sparked debate about what exactly he's trying to do… and I at times have struggled with it… and yet at other times have embraced it and been knocked over by the work. Seeing a longer edit of the Hmong pictures from 2003 was a gift that made the night all the more important. Say all sorts of things… but recognise he's committed to his undertaking.
So best of luck to all the students who participated!