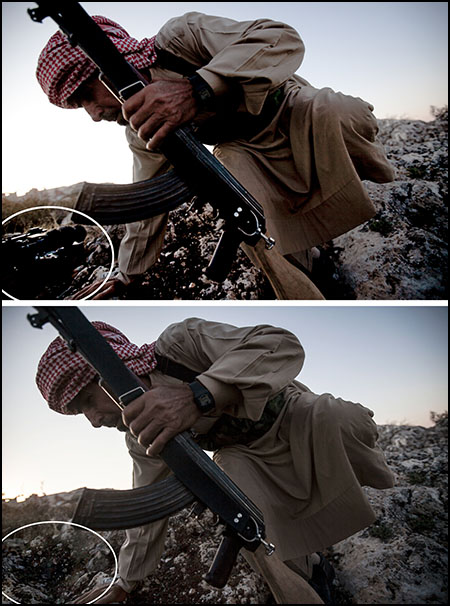 Much hand-wringing and tut-tut-tutting has been going on in the last few months… and the photojournalistic endeavours in Syria have been at the centre of quite a bit of it.
I stand very much outside this: I'm not, and have never been, a pressie. It is not a world I know or understand. And I have zero understanding or experience of combat (rather than the exploratory small arms and mortars that are far more random and occasional).
So this little entry kinda just points to some happenings that people are steaming out the ears over… but for which the answers should be far more layered than many of the questions that have been pumped around.
Firstly the death of Molhem Barakat… the now infamous 17 year old who was filing with Reuters (and the back and forth that has erupted over responsibility, freelance vs employment, activism and professional association). It's a tragic story that deserves a little of your time… simply to run the thing through your head. Given all the wider noise about the changing dynamics within various media delivery platforms and the goliath-like Services distributing pictures in hundreds/thousands of different markets… well it's time to just pause.
DuckRabbit is always a good place to start… you can spin out from there: here
*edit: Greg Marinovich did write a lengthy piece on it in December… a valuable contribution amongst many. Read it here
The second is the more recent fight with AP removing a freelancer from their feed bag. Narciso Contreras removed his colleague's video camera (see here) from a picture he filed (in breach of AP's code), admitted it and paid the professional price on that relationship. It was truly dumb to do what he did.. and wrong… but the vitriol that has been bandied about has at times been so venomous that you almost want to fight back for the side you wouldn't ordinarily choose…
*edit: Disphotic has a lovely piece here
So in these (what should be) complex discussions and conversations that should reach far wider than the single tragedy and the clone-tool-hoohaa… we can only hope for reasoned and considered minds to enter the room and for this to spawn something else.