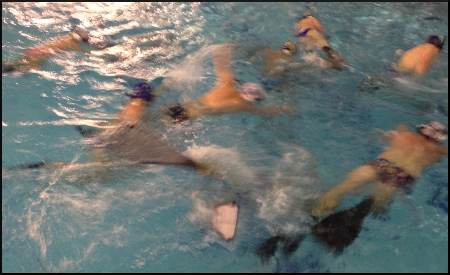 Saturday a week gone (July 27th) saw a few teams travel into Canberra for an Underwater Hockey Tournament… a little spin in the water in the middle of winter to stretch out the lungs and legs and have a laugh in between games of blue-faced-lunacy.
I got a right-floggin by a number of international-class players… current world champions from the Aussie men's team… a bunch of women's reps from round the world and a Kiwi and Sth African to round out a scruffy mix of club players in it for the stupidity… and what magnificent stupidity it was.
The Sydney team took it to the rest and came out with the big prize of bragging rights… and man was there some wild play across the tiles… big tackles, big break-aways, big swerves and tight curls… fronting up against some of those players was a lesson for sure (and a welcome one at that).
Beauty was I hopped on a plane not long after climbing out of the pool, flew a few thousand km's, wandered around for a few days and got in a social game with the Cairns Crew on my birthday… most places you go a loony crew can be found for a swim and a bit of puck stealing.
Good times.