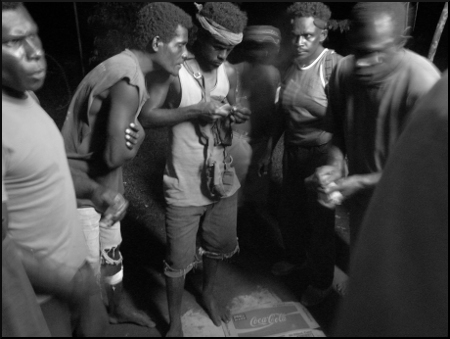 All things running smoothly I'll have landed back in Bougainville this afternoon and will be out of 'easy' contact (through choice, circumstance and expense) until early January. Better for me to simply roll film through my knackered cameras and gossip while sitting in the shade of a roadside tree.
Please please send me an email in the interim… I won't be checking them religiously (if at all) but it's your best chance of me eventually getting back to you properly.
Otherwise you can ring me on my current PNG mobile: +675……. this cell number will work throughout the Autonomous Region, so unless coverage is down due to weather, power or humorous incidents you should be able to find me on it.
OK… so with that I wave to you from the purple-edged-ocean shore with the cloud ringed mountains behind me and slip away with friends to dance into the night.
Stap isi.
*David is in the Autonomous Region of Bougainville until mid-January 2013. His ability to respond to enquiries will be limited at times. See here for contact details.