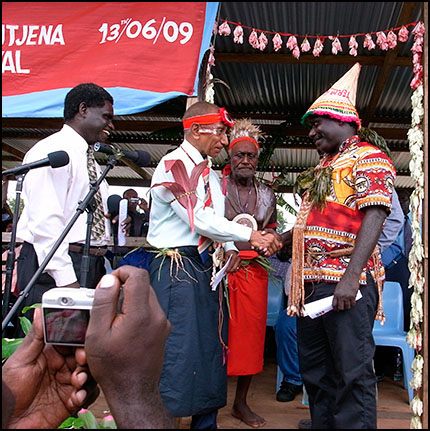 It has been a day full of surprises.
The day of reconciliation has been really impressive, simply because of the language used. The word 'sorry' featured heavily, and there seemed to be some strong gestures made. Even the content of many speeches was an eye opener, with direct reference to specific parts of the crisis and the feelings of people and repurcussions of the action taken. Obviously there were moments of 'explanation' for certain actions, but they were not long winded or used as an easy out.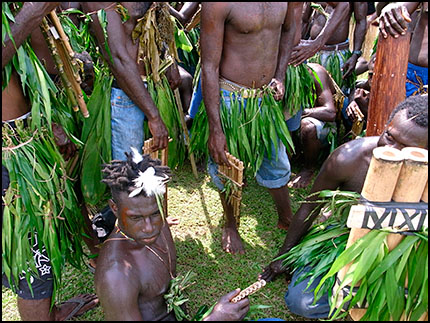 I am not in a position to make any real judgement or analysis of the complex things happening in front of my camera. I don't have the cultural insight, nor a strong personal history here on the island to really get at the backbone of the day. The different players, the way things were structured or the significance of the songs and dances that accompanied much of the day are not necessarily accessible to me.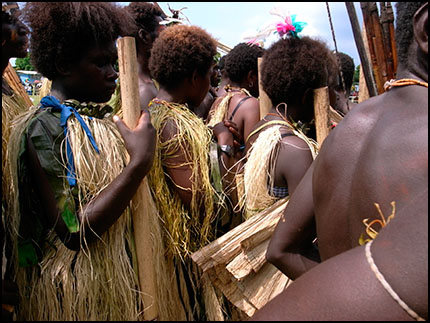 The entries of the two parties were fantastic, flanked by cultural groups. President Tanis and Sir Chan were taken to the side and adorned in decoration before taking to the stage. The President's family dressed him for the occasion.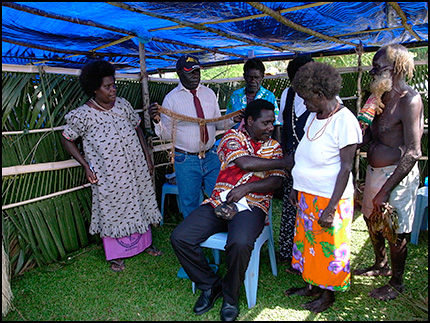 There were a number of ceremonies, the washing of feet in a very Christian manner, the breaking of weapons (bows, arrows and spears), the sharing of buai, planting trees and President Tanis and Sir Chan obviously coming together to shake hands and exchange some quiet words.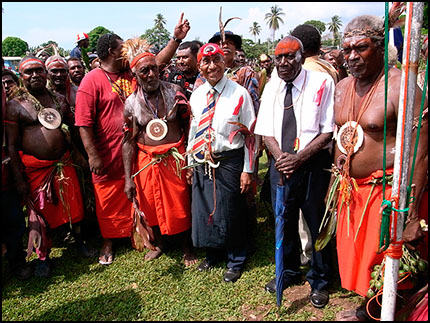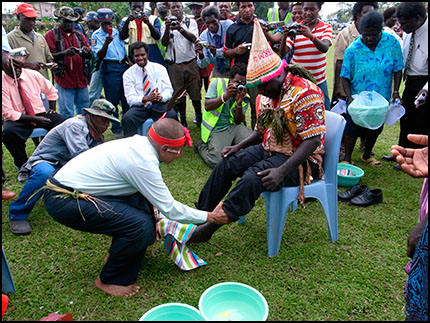 The sky opened up in the afternoon, soaking everyone silly enough not to run for cover immediately. Of course, my cameras were wet through and through, so they're sitting on the table in front of me, towelled off and opened up to try and save them.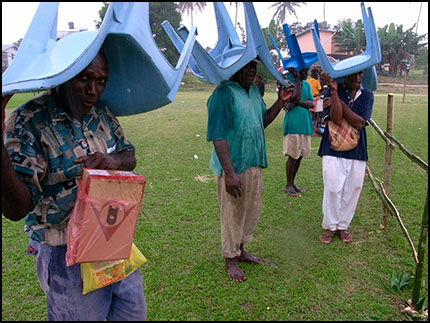 The rain eased, and speeches ensued. An interesting mix, with a few from different BRA factions, the Autonomous Bougainvillean Government, the national government and various community representatives.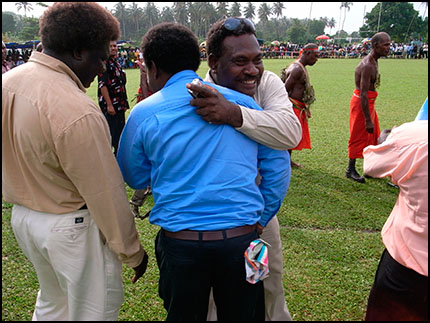 Hopefully a few photographs on the 120 camera that will lead to other work. There are some that definitely tie into a current project. Will have to run the film fairly soon. I shot some video as well with my little snapper. I'm trying to figure out the best manner in which to run this system as I would like to use it in a few projects I am working on. After seeing the Nachtwey doco (war photographer), as well as many multimedia pieces, the ability to splice little bits of moving footage in amongst the still images is tempting. I'll have to learn a few more tricks to get it all running smoothly. Then the challenge of getting it all onto my site over this hopeless connection will no doubt test my patience. Oh, and almost forgot to mention that after dozing all night to the sound of nails into wood, the grandstand and stage were finished and fantastic.
2 Responses to Reconciliation Day