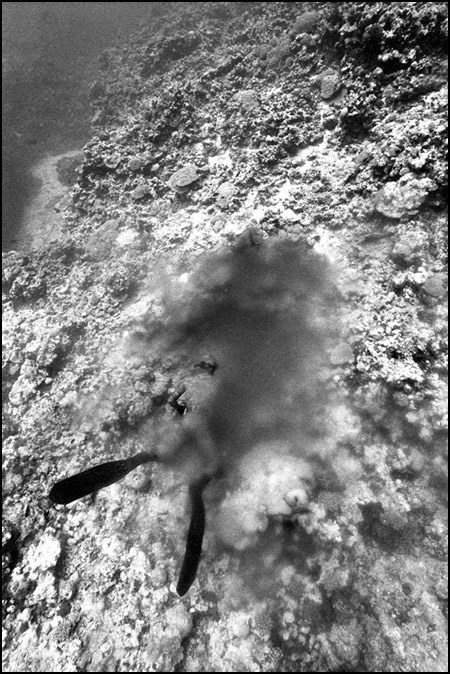 It's always a little snap that tugs my heart and sends my thoughts racing. Sometimes I stumble across them randomly and the pulse goes through the roof.
Zimmerman's snap of a spearo (suspiciously looking like Kirkconnell) lying on the bottom digging his catch out of its wrapped up spot sends me straight back to a few ledges that used to always produce for Rutana, the BigM and lil' old me… though maybe he's chucking sand in that picture to drag in some cautious jobbies… hmmmm… (?)… yeah I'll go back to my original thought: retrieving dinner from under some awkward rock.
That's what they (pictures) at times do – send me off into daydream land – and at other times I stay there, present with the print and object, transfixed with the new thing, the flat paper item in front of me marvelling at what the snapper has made. Such powerful little things… able to send me to the other side of the world or keep me planted, unmoving for ages with my jaw on the floor and a tear in the eye. Big ups for pictures!
Of course after such a random incoherent bit of blah it would be remiss of me not to devote time to Zimmerman. He's made some fantastic stylish editorial-esque work and it is no wonder that a number of the cool brands and magazines are clipping at his heels.
But in amongst it all a few of those spearo pictures just send me off into dizzy land – and I have him to thank.
So thank you Kanoa for holding your breath and pushing the button. I'm better for it.