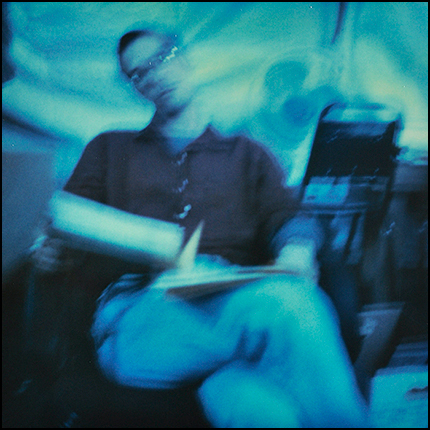 This is a picture of my good friend David Hines. I haven't seen him for years now, and we infrequently trade emails, usually just full of abuse.
Hines is a big brain, would by now have his doctorate, is a compulsive reader and general trouble maker. I got on well with him when we worked together in Iraq, even though our outlook differed substantially on many things.
The portrait of Hines is from the group of photographs called INSTANT PICTURES.It is a small body of work, only 19 prints, that was born from the same working habits as CAMP SLAYER. But unlike SLAYER, INSTANT PICTURES is a project that wanders all over the place, a diary of sorts, photographs of people, places I lived, random junk and even (gasp) a self portrait (accidental! I bumped the shutter as I was lining up something else).
I've rambled on enough, I just needed the excuse to post the picture of Hines. I really love the fan over his left shoulder. The photo's all blurry because I can't hold cameras very still and wasn't smart enough to use a flash or tripod.