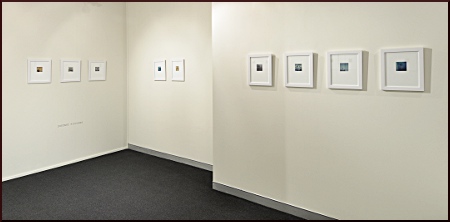 It's been a great month long show at the Kaori Gallery in Canberra – but alas it is time for Instant Pictures to fall from the walls.
The space that Michael Cammack directs is just superb. It's a wonderful little alcove and Instant Pictures sat beautifully within the gallery. I feel quite positive about I.P's first public hit out, a group of pictures that I've held pretty close for years now, not pushing to put it out there with any gusto.
James Webster of Sign Installation Services made some beautiful wall text that was wonderfully sympathetic to the 19 small prints. His strong experience and advice were key to finishing out the quiet, stripped hang. Such a little thing that truly provided an anchor for people coming into the space for the first time.
So now Instant Pictures slides back into its hidy-hole, the little prints back into their box, ready to be laid out on a table and seen in their original format again.