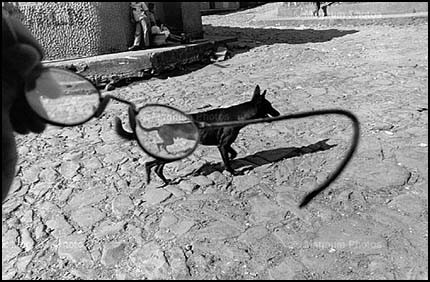 Larry Towell is one right out of the box. A member of Magnum Photos, an expert whistler, small scale farmer, film maker, folk musician and poet. His books are stunning things. My copy of "No Man's Land" is a prize possession, and I have heard Michael Amendolia say that "The Mennonites" is one of his all time favourites. The books I know of stem from long term projects, and are put together with great care.
Towell made his 'mark' photographing the toll that being without land has wrought. Gaza, El Salvador and Nicuagra among others. The photograph above from El Salvador kills me every time. The glasses frame and double up of the dogs arse, the people, and FMLN written on the wall to the left. It is stunning, I need to save up to buy a print.
 He has turned his camera to the things close to him at home. His family and their lives is the subject of his most recent book "The World from My Front Porch". Then there is "The Menonites", where he recorded their relationship to land and family. It was a long project, and he has said that the only reason he stopped was because he was told to, otherwise he would still be there.
Quite a few interviews and multimedia pieces can be found online. The first stop should be the Magnum sites, Magnum Photos and Magnum in Motion. His portfolio and podcats can be looked over and then enjoyed anywhere. There are also a few interactive essays that he has done, but unfortunately the connection here is so slow that any attempt at looking at them is futile.
I have never seen an exhibition of his pictures. From the installation photographs that I have looked at the shows seem like fantastic things, full of pictures, not sterile in their design and hanging. I'll get the chance to attend one some day in the future.