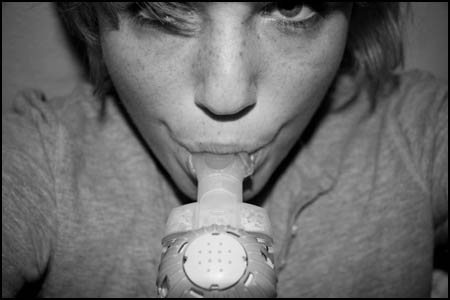 There is a little show hanging in Canberra right now which will no doubt make a few peeps take a step back as the magnitude (and the sheer mundaine repetitiveness) of it all becomes apparent.
In the words of the photographer Amy Mills:
"For 30 days I wanted to record the life of someone with Cystic Fibrosis, a condition that affects the lungs, pancreas, and in my case the liver and bowel.
 As part of my Cystic Fibrosis, I had a liver transplant at the age of 12. As a result of the medication to stop my body rejecting the new organ, I got diabetes.
 Through photographs I have tried to capture my daily routine of taking up to 40 pills, injecting insulin, enduring nasal washes and wearing a mask to open my air ways.
 In the beginning this was an experiment. I wanted to challenge myself to take my medication as prescribed, which was something I have long struggled with because I am tired of being sick.
 This project started by taking 10 photographs per day for 30 days. I wanted each photo to be different even though the routine is continual and will be for the rest of my life. The rest of my life, that's a strong statement and one I have always been afraid of.
There are 300 photos in this installation. I wanted to tell the truth, I wanted to be honest and I wanted to stop hiding this side of myself from the world.
 This is me, Amy Claire Mills."
Sean Davey, the Education and Projects Manager at Photoaccess, adds these words.
"It is easy to look at others with a camera. It is somewhat natural to look outwardly at the world in amazement, with intrigue and wonder. To a certain extent, the photographer must be involved with their subject to make compelling and interesting work, but no matter what happens, the photographer can always walk away if things get too difficult or too complicated. But Amy Mills doesn't have the option of walking away from her subject; she has chosen to do one of the hardest things a photographer can do (honestly), to turn her camera on herself. Amy is both subject and photographer in her work No More Tears, a series of photographs made over a one-month period in 2011.
Forty tablets a day, supplements, minerals, nasal flushes, injections, and mucus. These are some of the things that Amy deals with on a daily basis. This is what is it like living with Cystic Fibrosis and diabetes. No More Tears is an intimate and courageous photographic self-portrait of a vivacious young woman made by a talented photographer. Direct flash highlights little details,  and portrait after self-portrait the viewer is invited to experience Amy's daily routine and to feel (only a fraction of) what it must be like living every day with her illnesses.
The compelling nature of this work makes me feel uneasy. It must be hard, and certainly it is sad. Then I look longer at the installation comprising of three hundred small images (Amy made ten pictures a day for thirty days) and I smile. Moments of tenderness and love appear, good times with friends and touching images of Amy with her mum, pictures that we can all relate to and that warm the soul. I am no longer looking at a visual description of an illness; I am looking at the wonderful life of a beautiful young woman. Reality; Amy must self medicate every day, repetitive actions of swallowing tablets and using machines to breathe and to clean her lungs of mucus. Similar pictures are displayed over and over again and then I sense that sometimes Amy feels overwhelmed at what she is up against.
I cannot really imagine what it is like to live life the way Amy is forced to, but Amy doesn't have a choice. In essence none of us really do, we play the cards that we are dealt and then get on with it.  A small few, like Amy, do not pity themselves in the face of such circumstance; rather, they face life head on with courage, determination and a degree of cheekiness. No More Tears lives and breathes with Amy's resilience and strength of character. Amy does not shy away from who she is or what she suffers from, rather, by photographing herself Amy is taking control of her illness and placing it within the context of her life; one that is full of love, family, friends, study, work and photography. Amy's series of photographs reminds me how hard life can be for some people, while it simultaneously reveals just how precious and beautiful it really is."
Heavy… heavy… heavy.
Don't miss it.