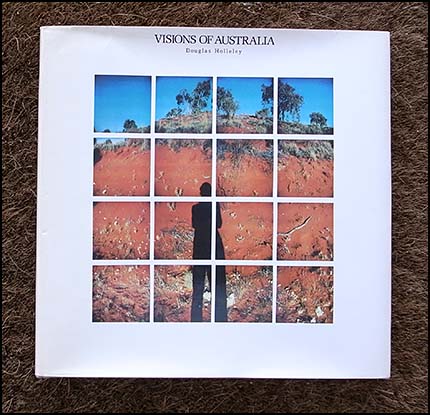 Isn't it awesome when you stumble across something that just slaps you around and opens your eyes!
I was cruising around Lyneham in Canberra the other week, and ducked into a second hand book store for a look. I'm always a sucker for these places. Two Don McCullin books were quickly put aside, and then I started to pull things from the shelf that didn't ring any bells. Most were returned after a quick look…. but then one came off the shelf that really kicked my arse.
Douglas Holleley's 'Visions of Australia' is a book that has held its own. It was published in 1980, and I have to admit that I had never heard of the work. A minute after it came off the shelf I was spinning as each new page came into view. Fantastic.
The book reproduces work that Holleley made in the late 1970's. The pictures are all Polaroid prints shot in Australia. He used both the little SX-70 (Time Zero) and the 8×10 inch 808 process to make the pictures. There aren't many single photographs in the book. Most of the work is wonderful collections of four, nine or 16 prints arranged in grids to explore the scene in front of the photographer.
Pieces like 'Wash with red soil sediment, Captain Cook Highway north of Cairns, Queensland.' and 'Bulrushes, Wilpena Pound, South Australia.' are magnificent. To be honest, the whole thing works. It is sequenced beautifully, without design getting in the way of content, and moves along at a great pace.
Holleley has lived in the USA for some time, and is now based in upstate New York. He has published numerous books, including some work on the subject of self published photographic books that take advantage of the many on-demand and short run printers that are in business now. He conducts workshops and lectures, and as far as I know continues to photograph on his own projects.
I sent him a short message only a few days after finding his book, thanking him for the pictures. He was very quick with a reply, and it was great to make a connection with a photographer who was, until recently, unknown to me. And yet somehow this book stands up as an influence, a point of reference with strong ties to my picures and work practices of the last few years. I have gone back to it every day since I have owned it, leafing through, pausing at different pages to find new things in the photographs and new ways to approach the assemblages. He mentioned that he regretted not including any single Time Zero prints in the book layout, as he felt that the small book was a good place to present the little prints alongside the much larger (original) assemblages that on the gallery wall dominate the small pictures.
His website (www.clarellen.com) is very much a commercial space focused on his writing and lectures.  And if you find a copy of 'Visions of Australia' I reckon you should buy it. It is a fantastic little book to have on your shelf.