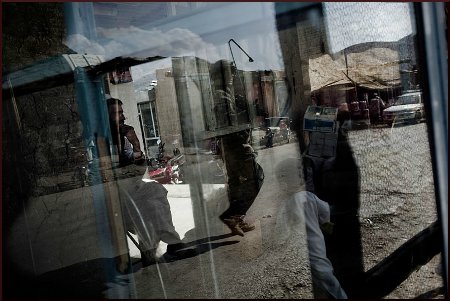 Adam Ferguson is a fantastic young Aussie photographer who has made some stunning pictures in Asia over the last few years.
He's probably best 'known' for the Afghanistan pictures that have seen a lot of daylight and received a great deal of praise (though he should not be defined by them! – ever).
He's been mentioned here on KisimP in the past, and the KP office peeps are constantly stickybeaking over on his site to have a look. It's hard to stay across the thousands upon thousands of people making magnificent pictures out there in the world (in fact the realists would say impossible) – suffice to say there are spots we drop in on to 'touch base' with, and Ferguson's site is one of them.
VII Magazine recently published a multimedia piece by Adam. He speaks to a range of subjects and issues. It's worthwhile to go and sit quietly, listening and watching. No doubt there will be reactions to the 'monologue' which is certainly not off the cuff… but should it be? Just sit through it quietly… please. Then make yourself a coffee and sit quietly, maybe watch it again… then by all means howl at the moon. At least at that point there will be a degree of composure and grounding to the screaming.
Adam Ferguson is a member of the VII Network – a group of shooters associated with VII Photos.
The multimedia is here.