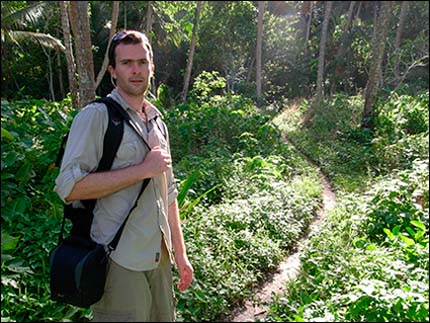 Dan Box left Buka this morning. He had been in Bougainville for the last few weeks working on a project for the Royal Geographic Society and the BBC. Dan is a recent recipient of the "Journey of a Lifetime Award", and used the opportunity to travel from the UK to the Carteret Islands to examine the many issues that have been raised in the last few years.
Dan has worked as a journalist for a number of newspapers and journals, and is a published author. His book 'Carry Me Home' examines the circumstances and subsequent investigation of Private Jacob Kovko's death in Iraq. A copy will be in the next book order.
While Dan's trip was unfortunately cut short due to unforseen events, it sounds like he has been able to tackle the project that has been years in the making. It will be great to see what he has come up with. The Carteret debate is a rather tangled thing, and I imagine finding your way through it is a tough thing indeed.
The BBC will be releasing his work over the next few months.
You can find more information on his site www.journeytothesinkinglands.wordpress.com. Best for me to point you in that direction than try and make it all second hand information. Announcements for available downloads and related topics will be found there in the next few months.
Good luck to Dan, with the wedding, the new home town and all the adventures ahead.