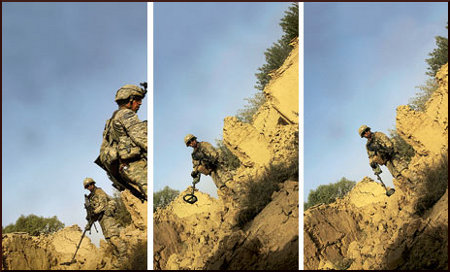 I'd been in Afghanistan for a month when I stepped on the landmine. I was the third man in line, and as I put my foot down, I heard a metallic click and I was thrown in the air. I knew exactly what had happened. As the soldiers dragged me away from the kill zone, I took these pictures. When people around me have been hurt or killed, I've recorded it. I had to keep working. The soldiers were yelling for the medics. I knew my legs had gone, so I called my wife on the satellite phone and told her not to worry. The pain came later, back in intensive care, when infections set in and they nearly lost me a couple of times.
I've spent enough time out there for my number to come up. I was one of the few who kept going back to Iraq. People think you do this to chase adrenaline. The reality is hard work and a lot of time alone. Firefights can be exciting, I'm not going to lie, but photographing the aftermath of a bomb, when there's a dead child and the mother wailing over the corpse, isn't fun. I'm intruding on the most intimate moments, but I force myself to do it because the world has to see those images. Politicians need to know what it looks like when you send young boys to war. If it's humanly possible, if the prosthetics allow me, I'll go back to conflict zones. I wish I was in Libya at the moment, without a shadow of a doubt.
The round-about of claim and counter claim regarding the photography of conflict, the participant, the voyeur, exploitation, blah blah blah blah… we cannot step away from the simple truth that there are a number of people who simply go out and place themselves in dangerous, violent situations to make pictures that we all look at (the reasons, impulses, arguments and justifications can come later).
Two Australians feature in the piece.
Read it here.