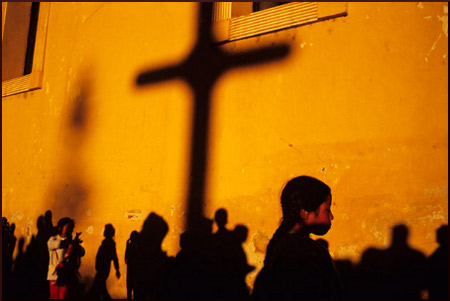 Andrew Quilty has a solo show opening tonight in Paddington, Sydney.
The Mexicans
Seems I've just landed back in Orstraya and there's all sorts of great stuff happening! Quilty has a solo show and a book release of the work… gots ta buy me a copy (somehow).
As if casing the perimeter before entering, my Uncle Mark and I drove across the four US states whose southern borders are shared with Mexico's north. East from the Californian coast where the name Hernandez is as common as Smith, across Arizona's Navajo country, the lonely remnants of the folkloric Route 66, the humble highlands of New Mexico and through the acrid whiff of "black-gold" across west Texas. We skimmed the notorious barrier fence and later the majestic Rio Grande – the two dividers, one man-made, the other natural – that have come to symbolise so much.
The term "Mexican" is itself a crude colloquialism worldwide for the unwanted neighbour across the border. I had known it before I'd come, even used it in jest. Inherent vulgarisms like this on top of our chosen route would provide the basis for my preconception; one that had marked me like a stain before I'd even crossed the border from Texas into northern Mexico, but one that would wash off as easily as it had appeared the further from the divide I moved.
I just need to keep repeating myself whenever I refer to a show:
GET THERE!
DON'T HESITATE, DON'T DELAY, GRAB YOUR HAT, JACKET OR COOL 80'S FLURO, STEP AWAY FROM YOUR iPAD AND GET THE HELL OVER TO THIS EXHIBITION!