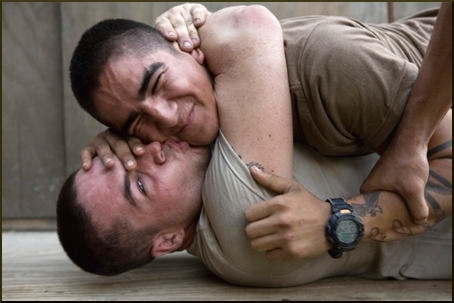 Back in Aussie now.
Landed late Thursday into Brisbane night in Brisbane. A 0330 start Friday so I could roll to Canberra with a busted tooth that I've been nursing for the last few weeks. Went off to the dentist to get it all checked before it went completely pear shaped.
Though I sat on the tarmac at Canberra airport for some time before being able to rush around because some dude with an excavator ruptured a gas main, evacuating the entire terminal and closing roads…
A ton has happened while I've been away.
Of course the death of Bin Laden came as a shock (who would have thought they'd actually get him?!) and covered the news for a few days. The rumour mill got the news to me in South Bougainville with surprising speed.
The deaths of Tim Hetherington and Chris Hondros in Libya were great losses to the photographic community and drive home the real risk of photographing armed conflict (rather than some romantic idea or antiseptic concept).
Blondz (of brokenbench fame) has his magnificent picture on the invitation for the Moran prize exhibition. Big respect to the man. He's fuckin good at what he does and has a deep commitment to the work he constantly returns to. Can't say I'm particularly impressed by the winning pic or some of McFarlane's choices – but that's simply my own little sordid opinion.
My mother had her graduation ceremony for her clinical masters on Friday – congrats! congrats! congrats!
I've returned to a heavily pregnant wife… any delay and I would have been in serious trouble. The change over the last month has been dramatic. Very soon now, only weeks to go!
Canberra is friggin freezing – I've gone from 26 degrees @ 6am to -2 degrees @ 6am in the space of 24 hours. Faaaaark. At least our little house has heating in it now… otherwise it would certainly be the death of me.
On the picture front… I've got a bag of film to develop (gotta get moving!) and proof. A great trip with some wonderful new things and many familiar faces to keep me grounded and make things feel smooth. It was great to sweat again in that heavy air. We'll see what comes of it all in the next few weeks.
And now back to your irregularly scheduled programming.
One Response to The fool has returned to Oz