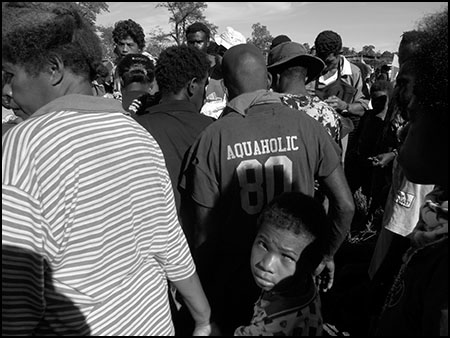 Now all hear this!
I'll be away from computer/phone/garamut/tin and string communication till early/mid May. Don't expect much out of me till then. It's better to not do battle with silly communication headaches and just concentrate on what I'm doing. I'll be back in touch when I land in Aussie.
If it's all gone to schedule (ie I'm not sitting at Jackson's waiting for a delayed flight) then I'm on a plane right now winging my way back into the Autonomous Region of Bougainville.
I'm continuing my project, seeing friends, telling stories and swimming in mountain fed rivers and the South Pacific (maybe scoring a tasty fish or two in the process). I've got a pack full of film and a little camera dangling around my neck… looking good.
Stap isi.
*edit: It's Sunday morning (17th April 2011), and all those who giggled at the thought of me waiting for a delayed flight will burst with laughter at the aircraft downgrade yesterday which saw me bumped and chillin in Moresby for 24hrs. I've just jumped some sneaky net access while waiting for this morning's flight, so last little jobs now before it is called.
One Response to Out of range – back to the Boogieville