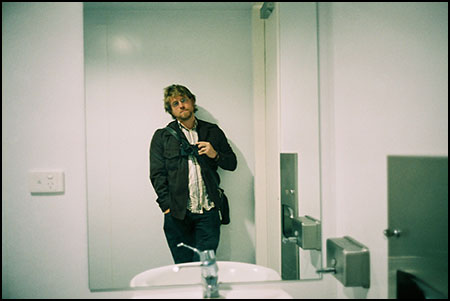 … stupid photographer pointing his stupid camera at his stupid reflection in a stupid non-descript bathroom mirror…
… but seeing this is my little slice of the ever expanding online shit-show: I present to you my masterpiece of wankery. The great thing is that because I'm rolling back into the Boogieville tomorrow (and disappearing offline/out of contact for some weeks), this stupid picture will sit here on kisim for a while, staring back at the masses.
Hurl your scorn and mockery at kisim, it'll eat that shit up and wink right back at you… I just stumble along wondering how Friedlander can make a stunningly beautiful body of work from his reflections and shadows; and I just end up with a dumb snap of my monkey arse staring back in the mirror… ahhh the questions that keep me trying, pushing that button and seeing what pops out!
One Response to The world doesn't need another…