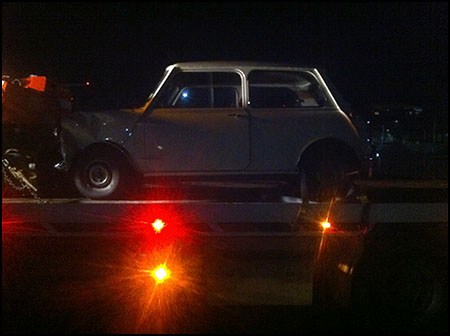 Rolling home from an antenatal class last night… and a P-Plate driver runs a red light at the intersection we were crossing and smacks the little Morris through the line of the front axle.
Edwina and her ever-expanding belly were riding shotgun but luckily the impact was well forward of her seat (somehow – thank fuck for that). It would have been the scariest view for her, sitting there just watching as the other car was about to hit without the 'action' of a break peddle to pump and a steering wheel to grip.
Police and ambulance turned up – pregnant wife off to hospital for check and observation, then statements, breathalyser, insurance, tow trucks and all that jazz before hitching a cab out to the hospital.
End result: without wheels for the foreseeable future but most importantly a healthy mother-to-be (and a little grommet inside)… good times…
2 Responses to And the hits just keep on coming…