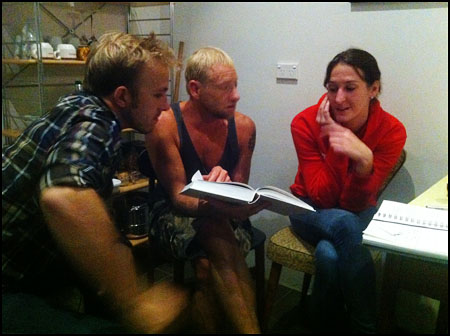 Rolled north to Sydney late yesterday afternoon with Sean Davey to attend the first brokenbench meeting of the year.
Spiro put the gig on. We ate such fantastic food (he claims not so – I say he should own up to a magnificent feed) and plenty of booze flowed as I got to meet Mayu, Thérèse and Blondz and then watch all these people who I've come to 'know' from afar get down to brass tacks.
Then with the more formal (and necessary) bits out of the way we were free to chat about pictures and other happenings. Mayu's upcoming residency sounds brilliant, a real fascinating gig, Sean's Dogfood and Oysters book was doing the rounds and inspiring some fantastic discussion – in fact everyone seemed to be brimming with things happening and potential – Thérèse just back into the country with new work to edit, Spiro with a project just ripe for a book, upcoming exhibitions for a few peeps… Brilliant.
I sat for a brief while and just watched Sean, Blondz and Thérèse dig through a Boris Mikhailov book (Case History) that Spiro had recently got his hands on – the chatter as they leafed through 400 or more pictures was classic, and the whole scene was wonderful as while there was all this 'discussion', their beady little eyes stayed glued onto the pictures. These brokenbench peeps love pictures – not in some sort of cursory fashion, or in a part-time manner – flat out interested without apologies.
Crawled under a blanket around 2am, up before 6am for the bus back to Canberra – dusty headed and shabby now (and full of rampant enthusiasm for these people I'm associated with and their wonderful, wonderful pictures).