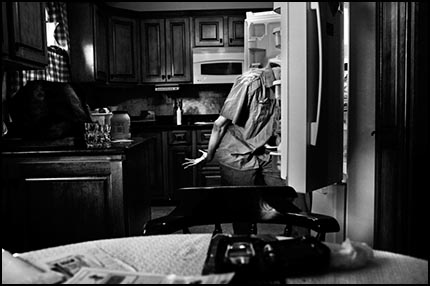 I've spent a brief bit of time staring at pictures on the Barnack site, and something has stood out… in a big way.
Christopher Capozziello has been photographing his twin brother Nick for some time. Nick has Cerebral Palsy. The work is the distance between us.
The photographs are very strong; quiet little moments that are infused with the photographer's obviously strong understanding of the complexities and subtleties of what Nick is dealing with, as well as the difficulty for the photographer as he points the camera at someone so closely tied to him. Hard hitting, grab you by the scruff, without any undue or overt "oooooh insightful look-look doco-esque expose isn't the shooter a hero" silliness.
Just direct pictures.
Capozziello is a founding member of the collective AEVUM.
Just click the link people, just click the link.
*this is just an edit that I've put in later as an additional note: I was digging around on the Cappy website, and came across his reference to the Prairie Lights bookstore in Iowa City… and there I was, sitting in my Aesthetic T-shirt from Prairie Lights… some scuffy Aussie on the other side of the world from this guy – those random links…