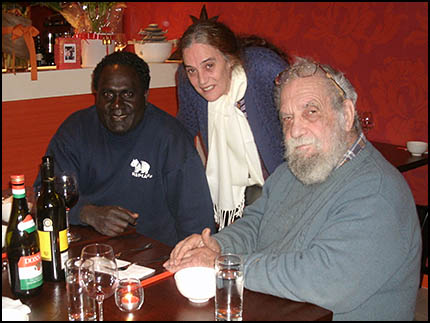 I caught up with my friend Clive Porabou a few days ago. We spent an afternoon chatting, sitting in a beautiful park in the ACT under the big eucalypts. He is in good spirits, and full of energy for some new projects that he has planned. Can't wait to see what he makes.
While we were sitting there in the sun Clive described the funeral and wake of Max Watts who had passed away earlier in the week. Watts has a long record of agitation, activism, journalism and philanthropy. He is a well known figure in the 'active Left', and was a vocal conduit through which a lot of Bougainville Crisis 'correspondence' landed into Australia. Clive sang for Max on the day everyone came together to farewell him, and described the event as an emotional time full of friends.
I never met Watts, only had a brief chat on the phone when Clive was at his house, sometime around my show at the Monash Gallery of Art in 2009. Max had a broad connection with many photographers, film-makers, journalists and activists. He pops up in a lot of contact lists!
A number of tributes can be found online, and Clive made an entry on his site recently.