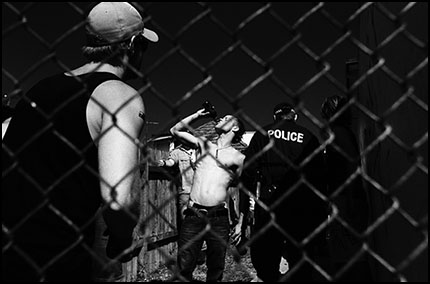 I was at a family get together yesterday and got talking about the photographer Andrew Quilty. The sculptor Paul Selwood is my missus' uncle, and Quilty had recently pointed his lens at some of Selwood's work.
A few of us got talking about collectives and their function for many documentarians in relation to engagement with the wider gallery/institution world.
Either way, that conversation aside, Quilty is a great photographer. Bold and direct. Many people would recognize his crazy strong pictures from the Cronulla riots (a very dark, frightening event pointing to much deeper, entrenched issues).
Andrew has moved quickly with some big awards and now as a member of the excellent collective Oculi. Exhibitions and books have been produced as he pushes forward. He has a wonderful website with a stack of photographs for you all to dig through (which you are encouraged to do!).
A big thumbs up for the strong photography pouring out of Australia.