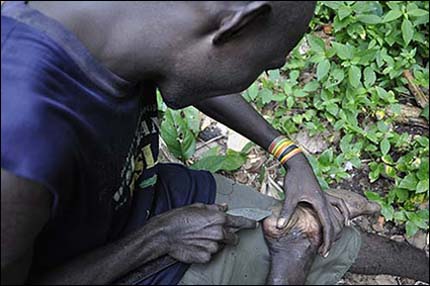 When Pete Pigott went for a surf here in Buka he was accompanied by two young blokes who were body surfing and generally keeping an eye on him. I watched them drift about in the swell, and it was obvious that all three were chatting, telling stories and enjoying an afternoon in the water.
As they were on a reef break, the usual hazards of coral cuts and grazes were present. Pete got off pretty lightly with a few scratches.
Once it was all finished, one of the body surfers paused on the climb back through the jungle to dig a piece of coral out from the sole of his foot. As always, the swiss army knife of (wider) Papua New Guinea came into play, quickly sorting out the problem.
A big 'em nau bulmakau' for the reliable bush knife.