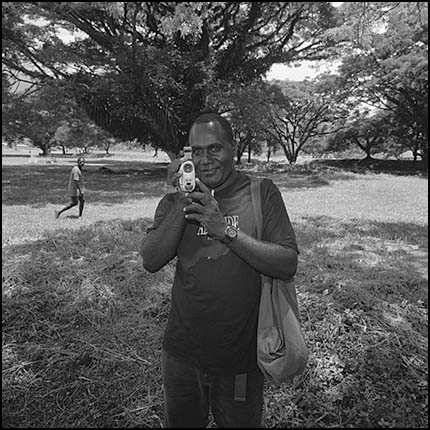 For those committed readers Clive Porabou is a familiar name here on kisim piksa. Various descriptions of him can be found around the place, ranging from singer/writer through to militant… (yawn), either way he's someone I have a lot of time for, and I thoroughly enjoy his documentary efforts in film.
Clive's touring around Aussie at present, playing gigs and engaging with various media organisations to convey his political message and agitate for greater representation and coverage. All power to him (whatever your inclination). Hopefully we'll catch up for a meal in the near future.
Clive and I first crossed paths in late 2007/early 2008 in Central Bougainville. As always introductions through relatives of his and away we went, telling stories and gossiping.
He has provided footage and other services to a number of large (and small) media organisations when they have done work in The Autonomous Region of Bougainville (the Australian Broadcasting Commission have benefited from his work in the past). His own documentary efforts (such as Mine Dilemma) are well worth tracking down, as they are Bougainvillean directed and produced, a great change from the fly in/out mafia (which I am really a part of – we miss so much of the subtlety, connections and simple insight).
The old site Mekamui.org has bits and pieces (such as the well known Havini essay), and his blog seems to get a little more in it regarding his own travels and experiences.