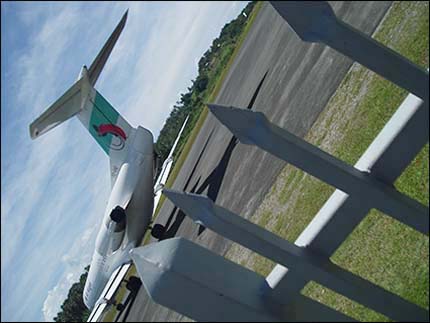 Places like Bougainville often have transient populations of foreign workers.
People come in on specific contracts or positions that have a finite life, then have to move on to new adventures.
Today Kim Cleland left Buka, bound for a quick stop in Australia before heading back to New Zealand. I can't say I knew Kim very well, as we only arrived a short while ago, but she was a great neighbour with good stories and a real love for what she was doing.
Kim has, for the last 12 months, been working in a non-government organisation focused on the relocation and related issues for the people of the Carteret Islands. The atolls have been a popular sound bite in the global media, but fortunately people like Kim have been in amongst it focusing on the plight of the residents rather than arguing semantics over the reasons for the loss of land.
It was apparent today at the airport, and in the weeks prior, that she'll be missed dearly by all those that she was involved with.
I wish her all the best in the exciting times ahead. No doubt she'll land on her feet and make a go of it.